I have always admired free spirits. In fact, many of the people I am attracted to and befriend are exactly that. I think this is so because in some way I am making up for a desire for free spiritedness in my own soul that for whatever reasons I have never let fully germinate and bloom. I am getting the soil and seeds ready, though. (Ah, the paradox of planned free-spiritedness!)
One of the things that it takes a more or less free sprited person to do is to backpack, to backpack anywhere, but specifically around Europe, holing up in youth hostels, getting a Eurorail pass, eating french bread and cheese for lunch, may be camping. Never done that…but I am thinking…saving pennies for a packet of seeds that I might go sow next summer. Just now I am thinking it might cool if I could somehow involve my bicycle, may be ride from Lands End at one end of Britain all the way to John O'Groats at the tip of Scotland. Ah, Scotland. Just watched Rob Roy last night. Brilliant.
And then came the sorrow in London.
As an aside, following the coverage of a disaster, particularly a man-made disaster, opens the door on some dark areas in my make-up. I do not relish the suffering, I am not as monstrous as that, but I think I am rather too interested in numbers. In the number dead. In the carnage wreaked. And, though I am ashamed to admit it, in a morbid way, the greater the carnage, the greater the intrigue. Who did this and why? What sort of ramifictions will it have on the state of world affairs, etc., etc. It is not that I am not touched by the horror, the sadness, but it is not my initial reaction. Nor are my questions inappropriate, but only so if their import never reaches the heart at all.
And I reacted to London in exactly that complex way. From an analytical perspective, it is shocking that the conflict that I have long anticipated to arrive in Europe between its Islamic minorities and largely secular majorities (a pertinent clip from NPR), would begin in Britain. It is not surprising that there was a bombing in London. As it will not be surprising when it happens here. (I hate to use the words "will" and "when," instead of "would" and "if," but I am afraid that that these terms are likely more accurate.) It was suprising, though, that the young men who carried out the bombings were native Britons who had been seemingly readily radicalized. And where? In the homeland of half my blood, Pakistan.
How this tragedy affects me is really, really of no consequence in face of the high level of suffering it has produced, but it is interesting. The following picture completely changes the dynamics of any back packing trip that I might want to take to Europe…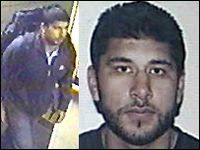 (story)
…It does not mean that I cannot go or would not, but the dynamics are now far more complex. I am sure I could not easily travel the tube just now with a backpack, perhaps no one can. I am sure that my lovely complexion (which I like to jest is the perfect comprise between the half of the world that wants to get darker and the other half of the world which wants to get lighter), which these days is darkened as a result of miles of cycling, would arouse additional suspicion. And, though I have been more or less profiled only once in my life due to my skin color (at the Canadian border some 10 year ago) which left me feeling angry/defensive, I don't know that I can rule out some forms of profiling now for safety's sake.
Before this weekend my mental discussion of what a summer in Europe might look like for me seemed to be rather hypothetical. It still largely is. But there is this. Yesterday, near the end of a thirty mile of bike ride, with a hydration pack strapped to my back, I waited for a light just South of the Arch. And just before they pulled away, a man shouted out the window of a car, "Hey, he's got a bomb on his back!" I doubt it would have been so had I not had my lovely complexion.